Day 29: Licensing, editions and features
In the past 28 days you have read our blog and evaluated Lights-Out. Now you have come to the conclusion to purchase a license. Excellent! But which one fits best? Let's look at licensing, editions and features more closely.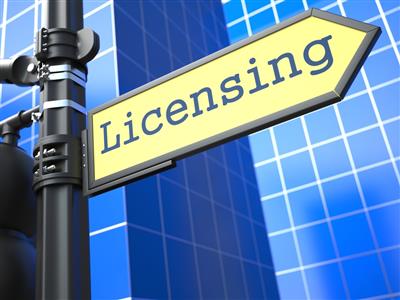 Licensing: Available editions and features
A Lights-Out license is available as Home, Professional or Business Edition. Lights-Out 2 introduces the unified license. Each edition can be used with any platform, there is no platform limitation. You can use a desktop operating system with a business license in a small company. Or you can use a Windows Server 2016 with a professional license at home. And you are always free to change the server operating system.
Key differences
Look at the table to see the key differences of the editions. All other features are identical in each edition.
| Home Edition | Professional Edition | Business Edition |
| --- | --- | --- |
| Non-Profit Use | Non-Profit Use | Commercial Use |
| No additional calendar groups | 2 additional calendar groups | Unlimited additional calendar groups |
| 1 Server License | 2 Server Licenses | 3 Server Licenses |
| 15 Client Devices | 25 Client Devices | 100 Client Devices |
Calendar groups
Calendar groups are used to apply a schedule to all computers, which are members of that group. This feature is not available in the Home Edition. For more information read Day 11: Using calendar groups.
Server licenses
This is pretty self-explanatory. You can use a Home Edition on exactly 1 server, whereas a Business Edition on 3 servers.
Client devices
Client devices are the sum of all computers (running Windows or macOS), all network devices and all mobile devices which you can manage with Lights-Out. You can read more about managed devices on Day 7: Computers, Network devices and Mobile equipment.
Which one should I choose?
If you are a business users, then you need a Business Edition. Full stop. No other criteria apply.
If you are a home user or work at a non-profit organization, you are free to select the edition which best fits your needs.  Reasons for the decision may be: How many devices do you want to support? How many servers? Do you need calendar groups?
Furthermore, you can always upgrade your license to a higher edition at any time.
Buying a license
Either click above on the menu bar entry "BUY" or open Lights-Out Console or Dashboard and click on the "buy a license" link.
Click on the desired edition. Your browser opens and you are redirected to the order page. If necessary, change language or currency on the top: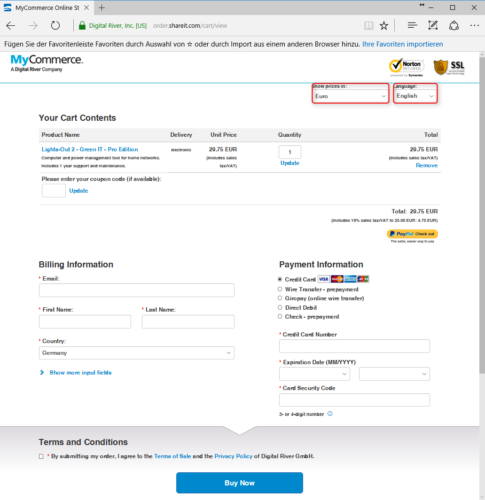 The actual reseller is Share-It, a Digital River Company. Share-It provides a printable invoice after check-out and calculates the applicable VAT. You will receive a confirmation email shortly after your payment has been accepted by Share-It. Now your license file will be created and typically mailed within the next 15 minutes from Green-IT Software.
Please check your spam folder! Some email providers (especially Google) like to move the license file into the spam folder.
Should you still have no license file after 2 days please contact
orders@green-it-software.com
with your order number.
Loading a license file
To finally use the license, save the attached license file in your documents or download folder. Please save a copy of the license file in a save place and/or archive the license email. You need the license file again if you reinstall or change the server!
Next click on the upper footer link "Load License" in the license panel.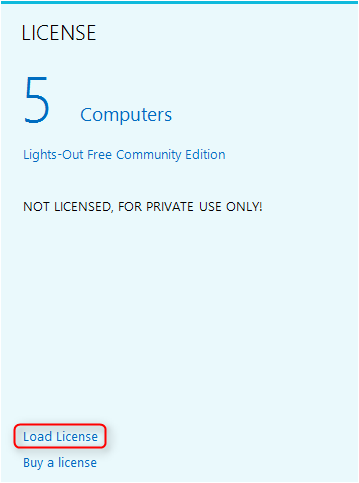 The "load license" dialog opens.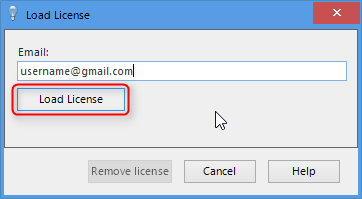 Enter a valid email address (the same you used to purchase the license).
The "Load License" button is now enabled and opens a standard file dialog to select the license file. Select and load the license file. Please be patient, loading the license file may take some time. Once loaded, the license panel will show your license: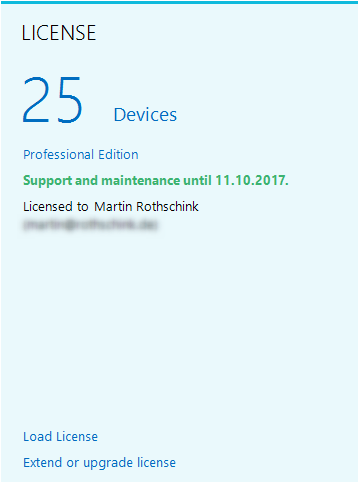 You may notice the "one year support and maintenance". Hence you may wonder, do I have to pay each year again? Short answer: No. You buy a perpetual license. Long answer: Read more on "support and maintenance" tomorrow in our closing post.
And if I do not buy a license?
Well, we really regret that decision. Because developing and supporting a first-class product costs time and money. And further development depends on money entry. Maybe you think twice because Lights-Out actually saves you money.
Lights-Out is still working without a license but with a significantly smaller feature set. Click on the "BUY" menu above to see the differences.
How you can get a free Business license
We are always looking for people who help with translations. Currently Lights-Out supports English, Danish, Dutch, French, German, Italian, Spanish, and Japanese. If you like to translate Lights-Out into Chinese, Czech, Finnish, Hungarian, Korean, Polish, Portuguese, Russian, Swedish or Turkish or any other languagenot mentioned here, please contact us at orders@green-it-software.com.
Summary
In our penultimate blog post we discussed licensing. We explained the especially relevant differences between the three editions. We guided you through the order and licensing process and finally explained that you purchase a perpetual license.
Tomorrow we will close the step-by-step series with a look at your "support and maintenance" options.
Here you will find the complete list of all days of our step-by-step series.