Day 7: Computers, Network devices and Mobile equipment
Lights-Out handles 3 different device types: Computers, network devices and mobile equipment. Today we learn more about these different device types.
How do these 3 types differ?
Computers includes Microsoft Windows and Apple Macintosh machines which are connected to your server using a Lights-Out client software. A computer without client software is therefore treated as a network device.
Network devices includes everything with a connection into your local network. For example, routers, media players, IoT equipment etc.  These devices do not have a dedicated client software.
Mobile equipment includes your smart phones and tablets when running the Lights-Out Mobile App. Mobile equipment without client software is again treated as a network device.
What are managed devices?
A managed device is either controlled by Lights-Out or it is monitored for activity or both. Lights-Out 2 has a limit on the number of manageable devices. Because of that you select your managed devices. You can freely distribute your licensed device count between the 3 device types. For example, you own a home license. This license includes 15 devices. You can now choose to manage 8 computers, 4 network and 3 mobile devices. Or you decide to manage 5 computers, 6 network and 4 mobile devices.
Computers, Network devices and Mobile equipment in the user interface
Lights-Out uses a separate tab for each device type in the user interface. All 3 share the same common user interface.
A grouped device list (1) – (4). You see managed and not managed devices here. If you like to know more about each column of the list, have a look at the manual.
A task pane for the selected element (5)
A general task pane (6)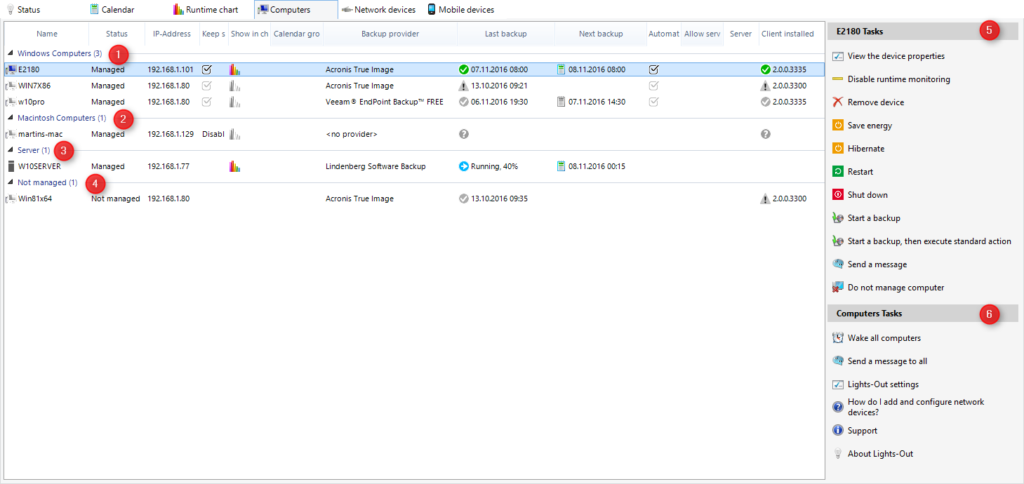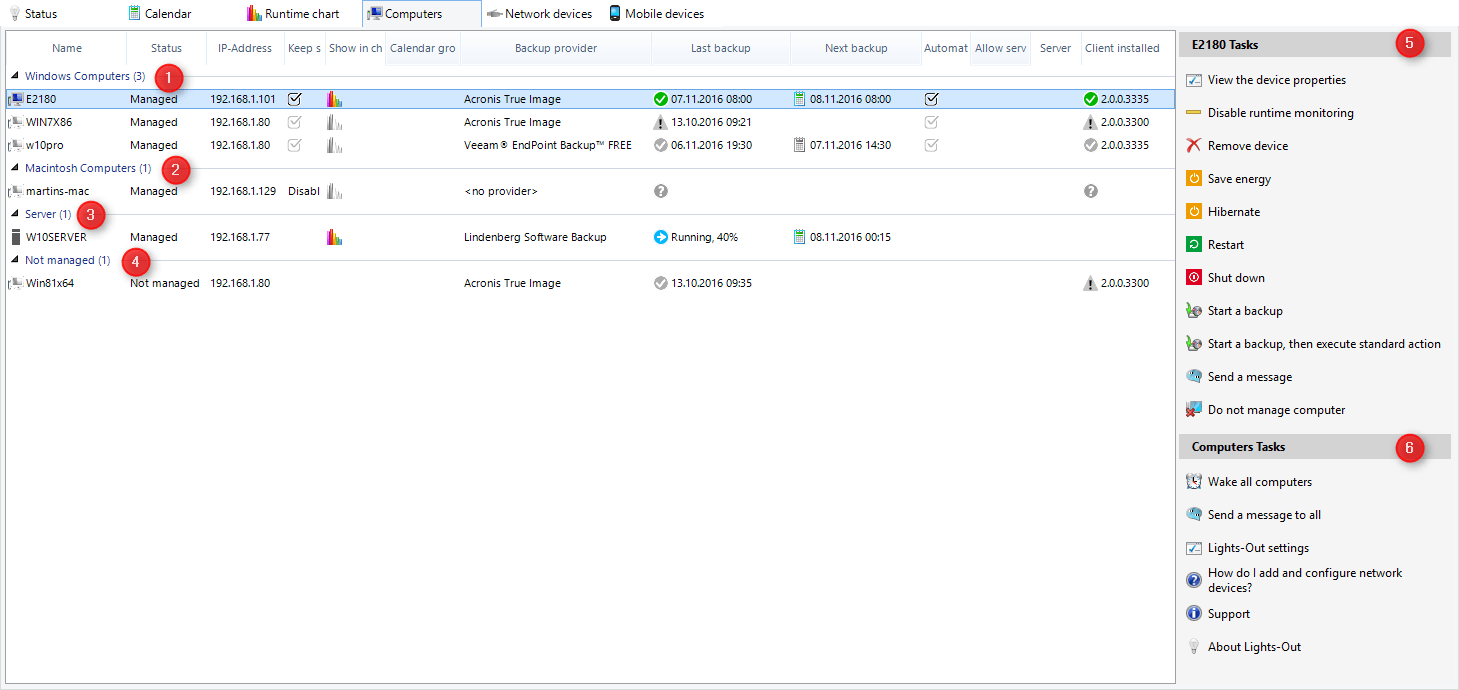 The network devices tab looks similar: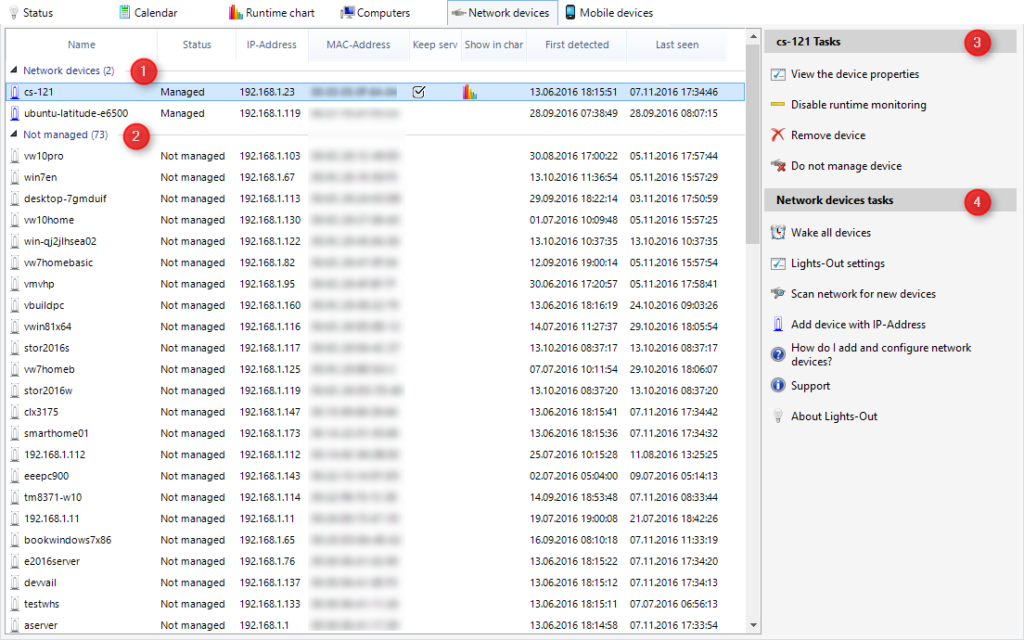 And the mobile devices tab looks similar like this: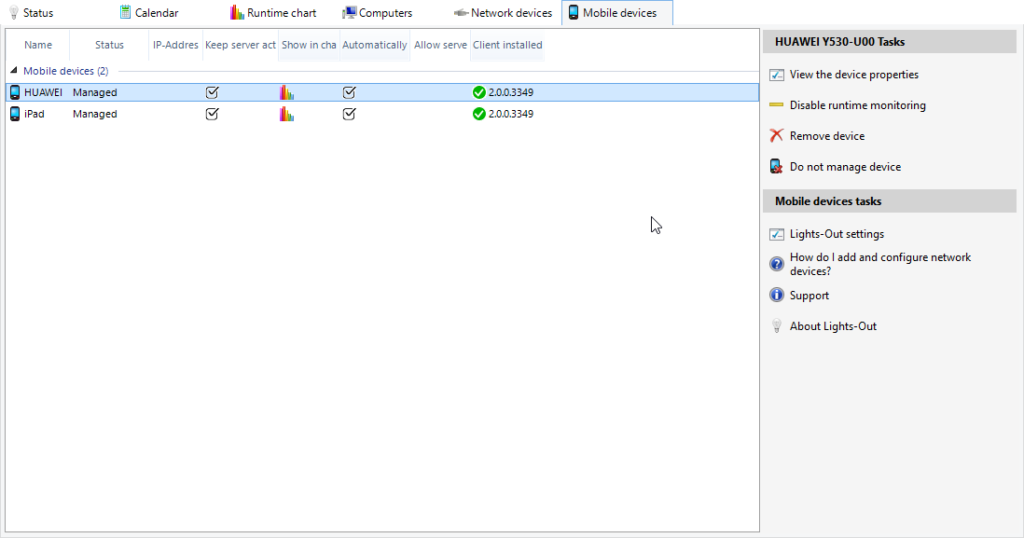 Context menu and task pane
If you right click a device, you will see a context menu with the exact same commands as in the task pane. Use either one to move a device from a managed to a not managed state (or vice versa).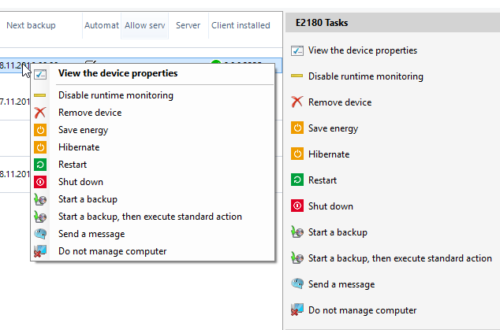 A double click on a device directly opens the device properties.
Device properties
Use the device properties window to individually configure each device. The first tab is called "Properties". Properties are a little bit different for each of the 3 device types. Have a look at the manual to learn more about the different property tabs and the meaning of each item.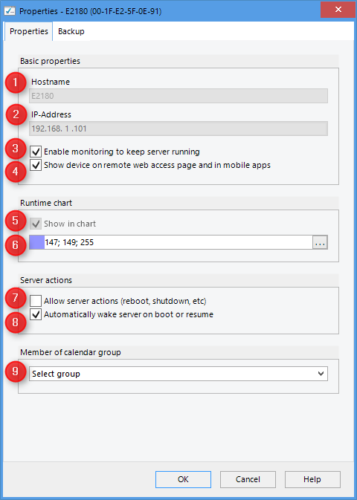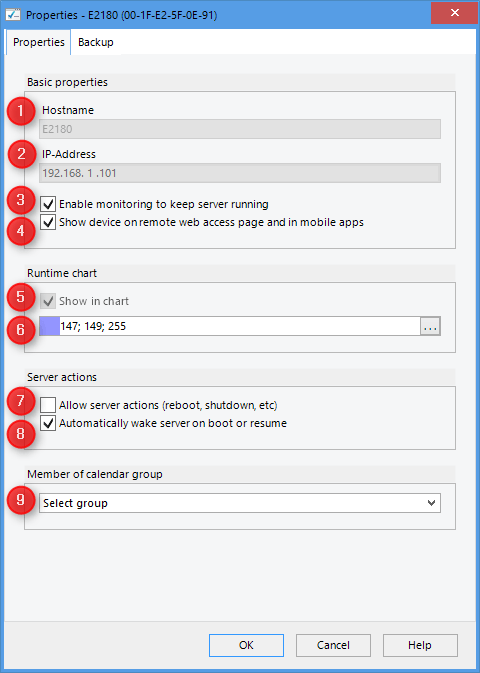 Use "Basic Properties" to enable monitoring (3) for the selected device. You can also decide if you want this device to be visible (4) in a mobile app.
Use "Server actions" to enable automatic wake-up (8). You can even allow more dangerous operations (7) like a server reboot or a shut down.
Backup properties
The second tab shows a list of the last 15 backup results. You can right click on a result to either remove the selected or all results.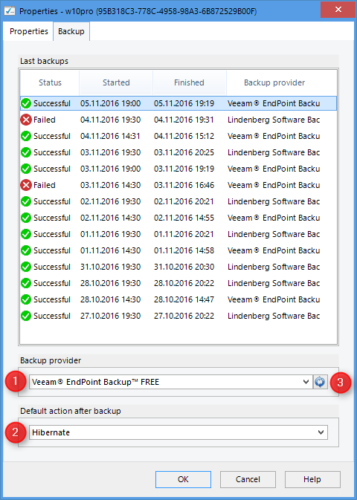 We will create even more blog posts to talk about all the new backup functions. Will will explain in more detail what backup providers are and what the "action after backup" is used for.
Typical management tasks
Here are some examples for everyday tasks:
Wake a single or all computers to install updates
Run an interactive backup and afterwards save energy
Reboot, shutdown or save energy on selected computers
If you made it such far, we will finally show you a little gem. You can easily send a message to your computers! For example, you can announce a server maintenance. Click on "Send a message".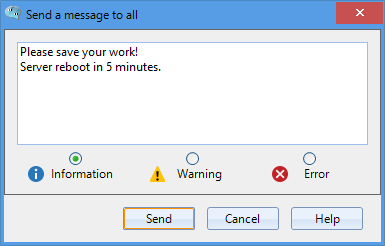 Enter your short message and select the level (info, warning or error). Click on "Send". On each client, you see now a popup with your message: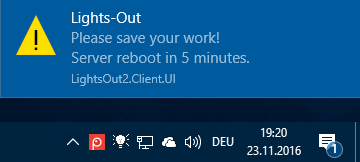 Summary
On the 7th day of our series, you learned what managed devices are. You have seen how easy it is to send messages to your computers. And finally, you know where the server actions can be enabled.
Here you will find the complete list of all days of our step-by-step series.