Day 3: Client installation on Windows and Apple computers
Now that our server is up and running, we will connect client computers to the server. This is done by a client installation. Lights-Out requires a client software package to control and monitor client computers. The required installers can now be downloaded from our server.
Downloading installers
Open your browser of choice and navigate to http://server:7782. You will see the Lights-Out start page, click on "Download installers" to access the download page.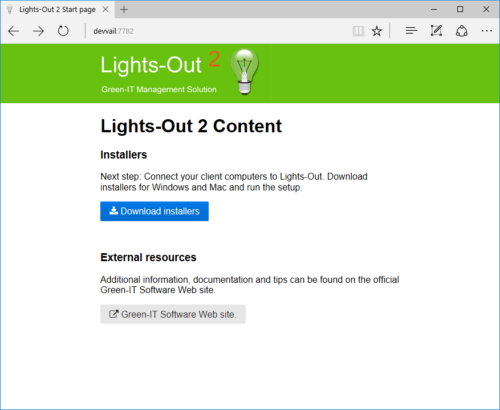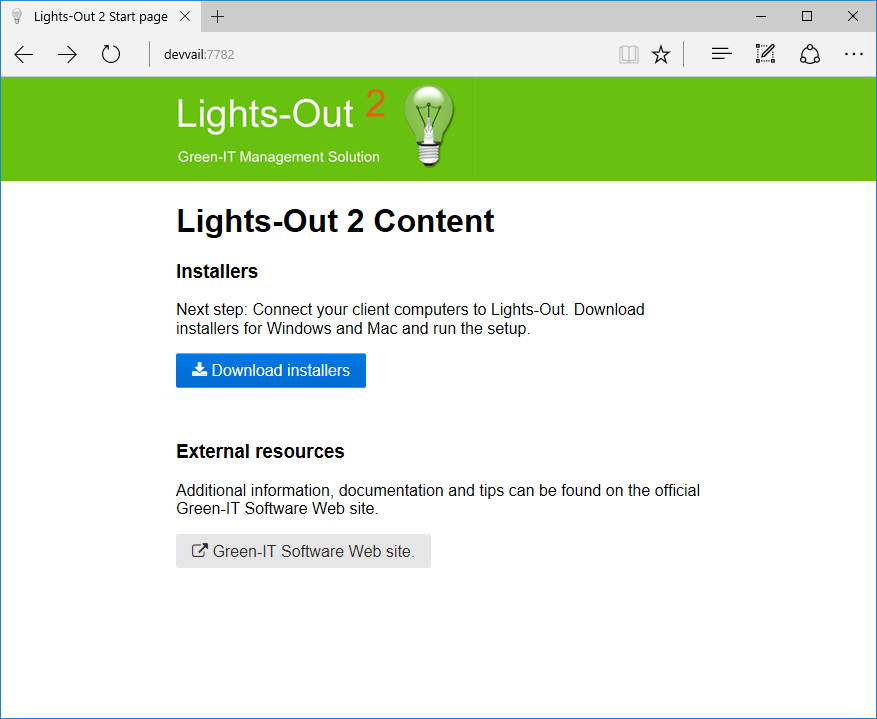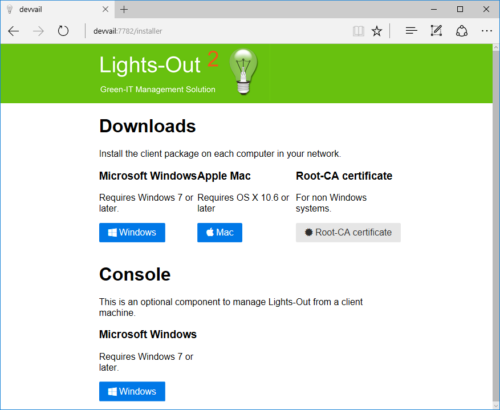 Client installation on a Windows Computer
Click on "Windows" to download the client installer. Save and execute the file.
The installer works very similar to the server installer. You see a loading dialog, a language selection and then the installer progress. Again nothing special so far.
At the end of the client installation however, the connection to the server requires manual configuration.
Connecting to the server
The server discovery starts. Typically you will see your server(s) in the first selection. Here is our S2016 again: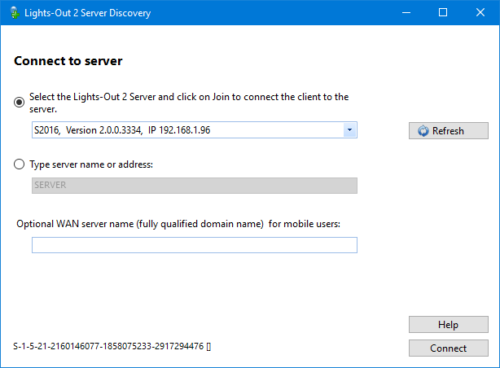 If you do not see the server, i.e. the first entry is empty, click on "Type server name.." and enter the server name or the server IP-Address.
If you want to access the server from outside of your local network, be sure to enter the external DDNS name: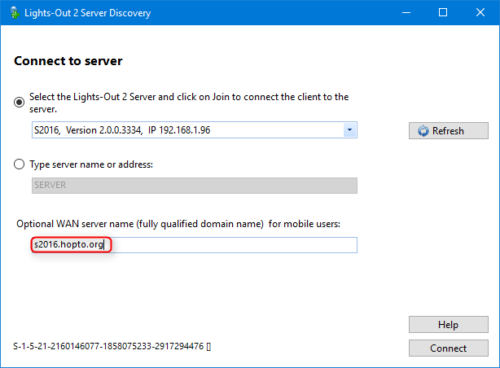 Now click on "Connect". You have to enter server credentials (unless the client is joined to a domain and you are logged on as domain admin).

Addendum 19.12.2016:
If you run your server with a Microsoft Account, you should use the mapped short user name here. To see the mapped name, open Lights-Out Console, Settings, Users. If you connect to a server with Active Directory, you may have to use the format DOMAIN\admin as user name.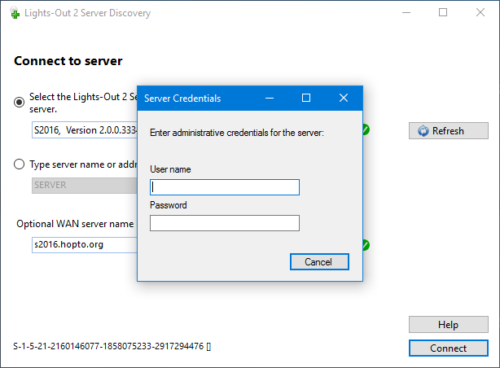 If the connect was successful, the window is closed and you see the last dialog of the installer. Click "Finish" to close the installation.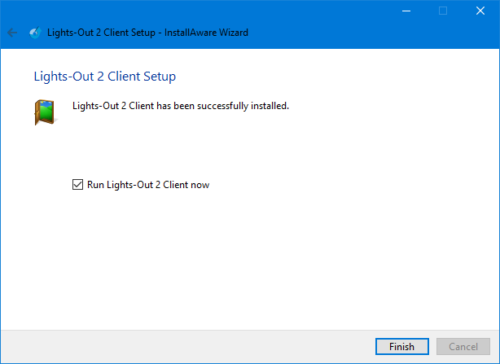 A few seconds later, the bulb should appear in the tray:

That's it, the first client is now connected to the server.
Client installation on an Apple Mac Computer
Again, open your browser of choice and navigate to http://server:7782. click on "Download installers" and the download the Mac installer. Run it.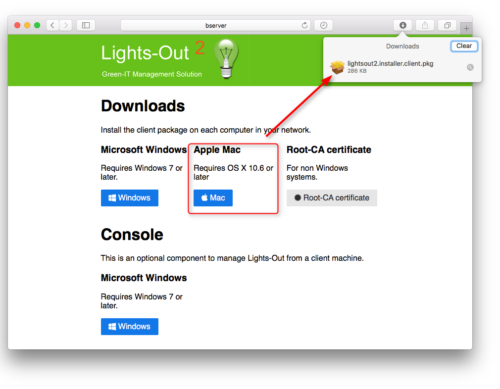 Click Continue and Install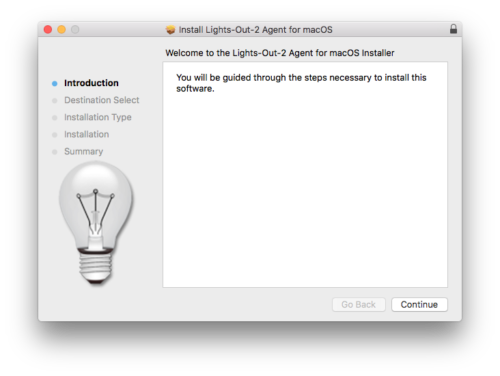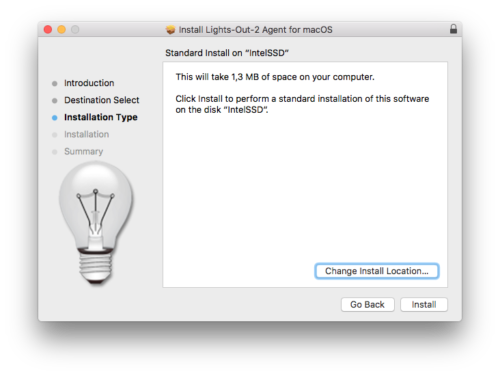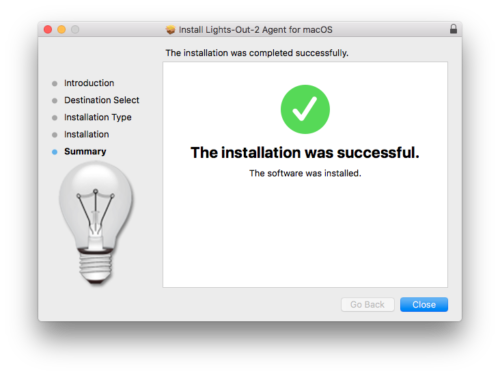 Now a new icon is visible on top:

Click on the bulb and select preferences: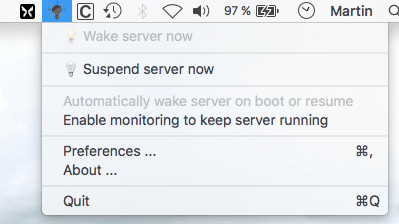 Enter your server NETBIOS name and optionally your external domain name. Add :7784 to the external name: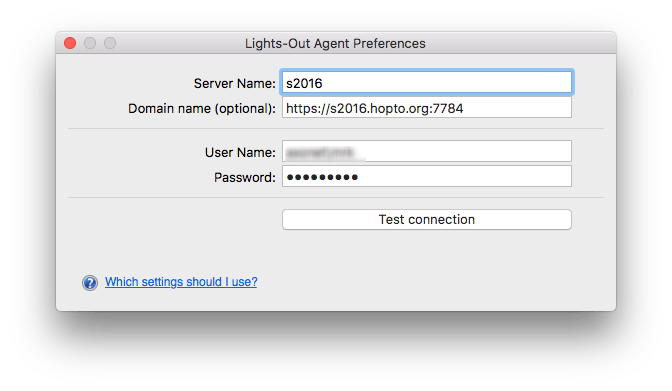 Click on "Test Connection". Done.
Summary
Today we connected different types of client computers to our server. Now we have our first working system. In the next parts of this series we will explore what we can do with it. For more background information have a look at the manual.
Here you will find the complete list of all days of our step-by-step series.