Day 19: Using Acronis True Image Home
This blog post continues on the backup topic of our step-by-step series. Today we look at Acronis True Image Home. This is a proven third party backup solution.
Key features of Acronis True Image Home
Acronis True Image Home stores files and folder or disk images on (external) disks or in the cloud. While it provides a simple few clicks backup it also provides many options to tailor the backup process. A currently connected backup disk is visible and endangered by ransomeware. A cloud backup on the other hand is secure. You can create multiple backup jobs and run backups with different targets. Cloud backups are stored in the Acronis cloud. Again a fast internet connection is required and you have to pay for the required storage.
You can restore single files and folders or entire disks. Bare metal restore is possible via boot from rescue media (either Linux or Windows PE based).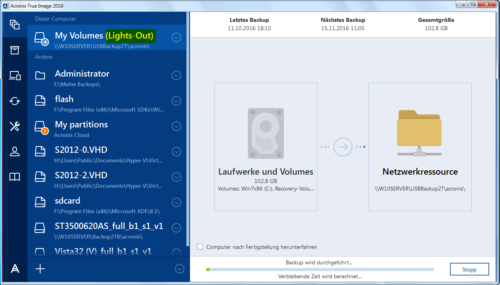 Lights-Out support
Lights-Out fully supports Acronis True Image Home 2014 and later. If you still run True Image 2012 or 2013, then you should consider to upgrade to a later version. Lights-Out will automatically detect Acronis True Image Home if you have created and saved one backup job. However, you can create multiple different backup jobs in Acronis True Image. In that case, Lights-Out requires that you rename exactly one job to include the word "Lights-Out" as seen in the screenshot above. This marker identifies the backup job which is started by Lights-Out.
If you add a schedule to your backup job(s), Lights-Out is not able to retrieve the schedule. It does, however detect that a backup is running. We recommend to not use the Acronis scheduler, instead schedule the backups with Lights-Out.
Finally, Lights-Out adds some additional benefits to Acronis True Image Home:
Especially relevant: Lights-Out can start your server from standby or hibernation and your clients from shut down, standby or hibernation to run a backup!
You can configure and execute an action after backup. As a result, is it easy to save energy after a backup.
Lights-Out reports backup state, result and the point in time for the next backup (see screen shot below) if scheduled with Lights-Out!

Summary
Acronis True Image Home provides different solution to protect your valuable data. In times of ransomeware a combination of local and cloud backup is recommended. With Lights-Out as companion, you get some additional features to better save energy without the risk of data loss.
Tomorrow we will look at Duplicati.
Here you will find the complete list of all days of our step-by-step series.