Public beta of Lights-Out 3
We're excited to announce the public beta of Lights-Out 3 today.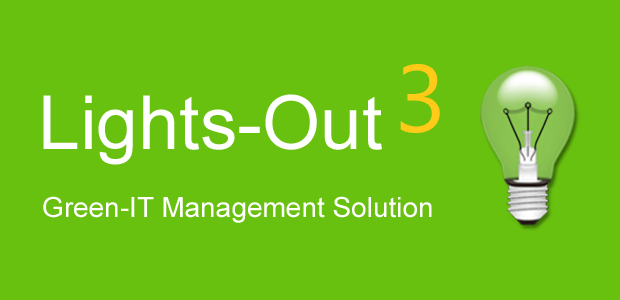 TL;DR
If "Service and Maintenance" of your existing version 2 license is still valid for a few months, then you can immediately use the beta (and in addition also the released version) on your production system. The update is free of charge.
If "Service and Maintenance" has expired, you should extend it now. Otherwise, when installing version 3, the old license will be discarded and replaced by a 30-day trial license. As a result, you may need to purchase a new license for version 3 or return to version 2.
Installation
Simply perform the installation on the server, all settings and client computers of an existing version 2 are automatically adopted.  After that,  all Windows client computers will update automatically within 15 minutes. You can now connect Linux computers (new feature!). The existing simple MacAgent has been replaced by a full client software for macOS. In conclusion, updating is pretty straightforward!
What's new in Lights-Out 3 public beta?
Quite a lot. I'll start with the server, then go to the console and dashboard, introduce the new client software, and finally look at the backup providers.
Server
Lights-Out 3 supports a completely new product line, Synology DiskStation NAS systems. For a detailed introduction, I recommend to read our separate article on this topic!
Under Windows, Lights-Out 3 now officially supports the new Windows Server 2019 and Windows Server 2019 Essentials.
Activity monitoring
Some devices can not be monitored on the network. They react to network requests despite being switched off. If such a network device has a web interface, the new website monitoring can be used.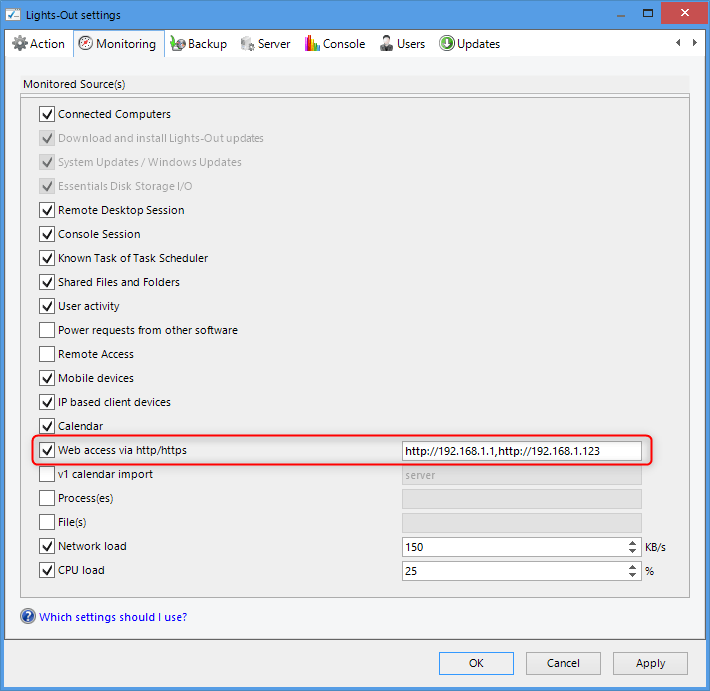 The server can now determine the manufacturer of a physical address (MAC address). This makes it even easier to find unknown devices. You must explicitly activate this feature for data protection reasons. The MAC address is transmitted to an external service for this purpose.
In case of problems, you can now easily downloaded the server log files and attached these to a support ticket (especially useful for Synology DSM, not every user wants to acces his DiskStation via SSH).
Control of the server (the so-called server actions) by client computers can now be configured centrally. There are 3 ways you can do this:
Always globally permitted, you have to enable each client
Always forbidden globally
Allowed on physical machines, forbidden for virtual machines or containers (default)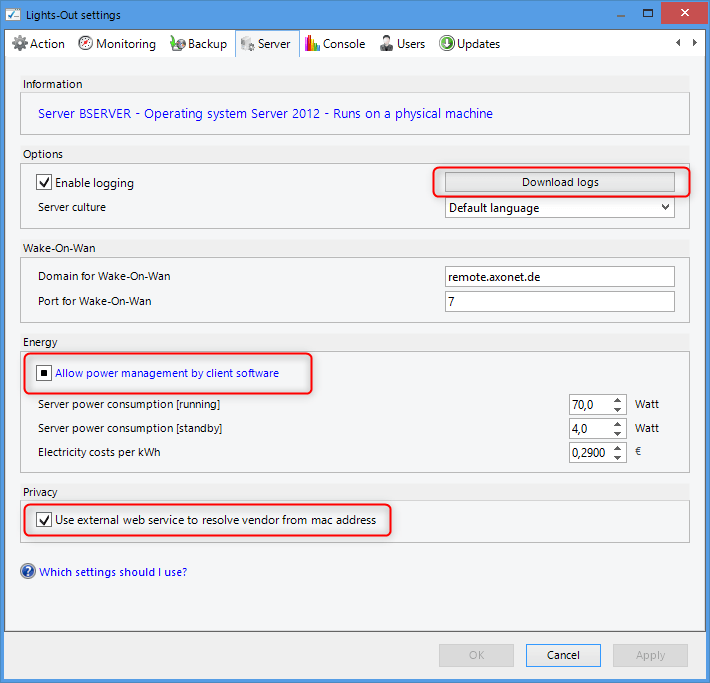 Console/Dashboard
You can now install the certificate when you connect to a new server for the first time. You can delete outdated entries: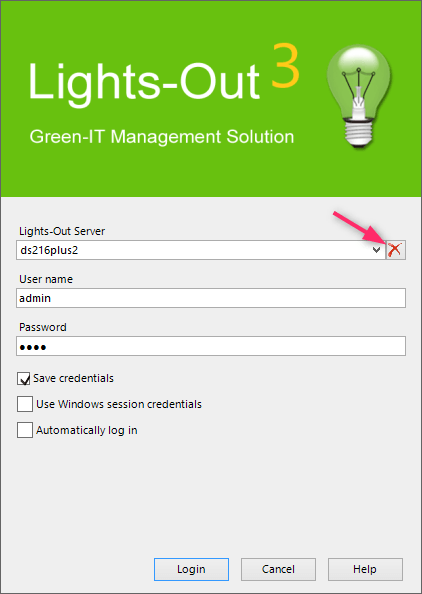 The dashboard or console of Lights-Out 3 shows a new column for the manufacturer of the MAC address: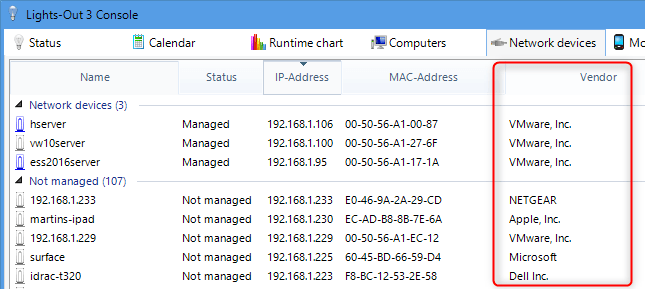 You can easily accessed a client via RDP, TeamViewer or web browser: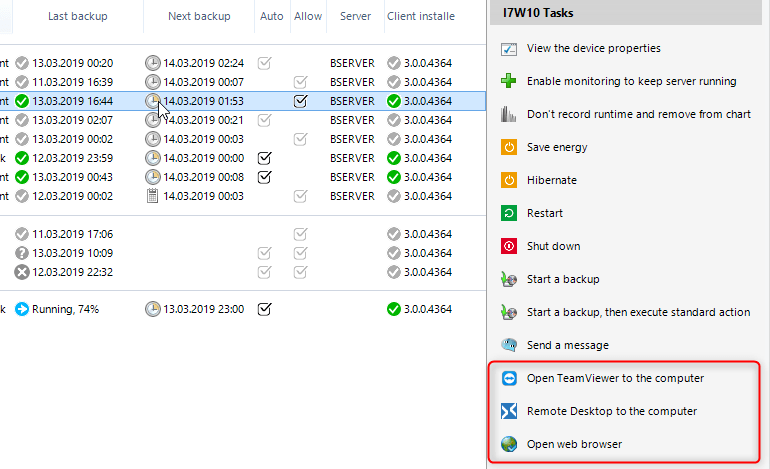 Access via TeamViewer requires a TeamViewer installation on the target computer and the computer with the console.
Double-clicking on a column now adjusts all column widths at once.
The column width of the backup list is now saved.
Lights-Out 3 client software
This is where Lights-Out 3 has done the most! A common, functionally identical software was created for all 3 operating systems (Windows, Linux and macOS).
The client functions in a fast run:
Runtime control of the client computer via Lights-Out Calendar
Monitoring of backup
Tray icon with context menu for waking other computers, configuring backup and server.
End action after backup
Shutdown, standby or restart via console
Under all 3 operating systems, the client software updates automatically when a new version is installed on the server.
To connect to the server, a uniform software was also created. You can open the software from the context menu or start menu (screen shot here from Ubuntu).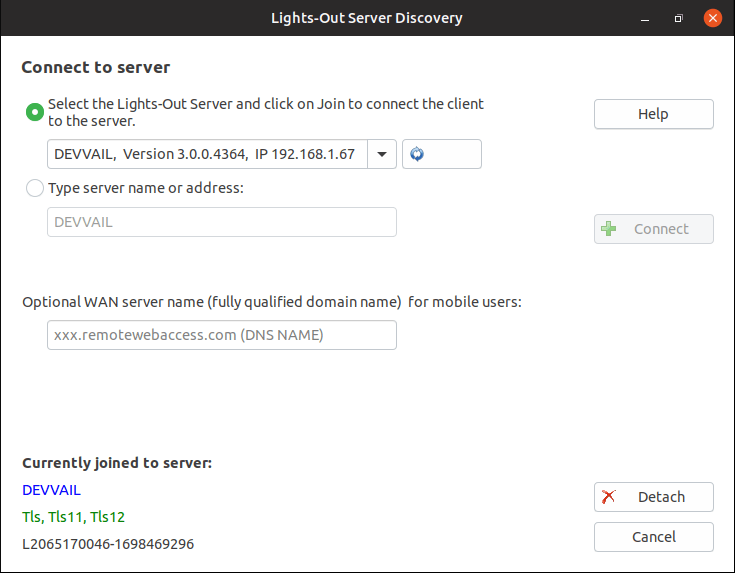 Backup
Version 3 can detect multiple configurations from some backup providers. This makes it easier for you to see the type of backup in the list: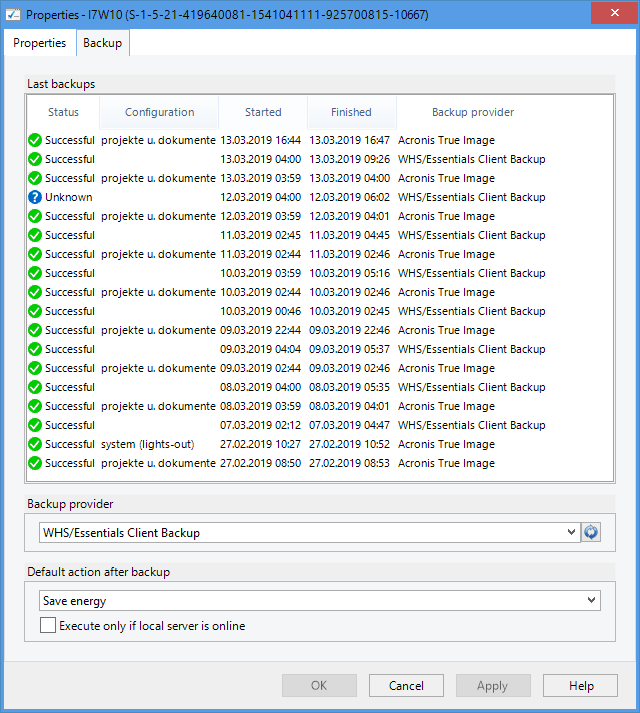 Version 3 extends the list of supported backup providers:
TrueImage 2019 on Windows and macOS
Time Machine on macOS
Carbon Copy Cloner on macOS
UrBackup on Windows, Linux and macOS
Hyper Backup on Synology DSM
Active Backup for Business on Windows
In short
I invite you to test the new public beta of Lights-Out 3. This build is very stable and has been internally tested by many users.
Please discuss any problems in the forum or (if it is a real bug) report them in the ticket system.
Resources